The Actor's Life Shopping Channel
The Business Store
Serious actors need serious tools, and The Actor's Life has them. From deals on subscriptions to journals, books, scripts and computers. This is your one stop shop for the business tools for the Actor.
Subscribe to The Magazines That Make Your Business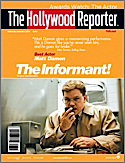 Through our relationship with Blue Dolphin, you can get deals on the trade magazines that you need to get for your profession.
Get The Hollywood Reporter Daily
Get The Hollywood Reporter Weekly
Get The Books That Teach You The Business.

Through our relationship with Amazon.com, we've selected the best books and resources that any actor needs to kickstart their career.
Audition: Everything an Actor Needs to Know to Get the Part A staple for every actor. Every successful actor has a dog-eared copy of this classic.
Ross Reports Tv & Film Great info on all the things you need to know about in Los Angeles - from agents to producers this is the source.

Sense of Direction: Some Observations on the Art of Directing A great book by William Ball - every actor should know about directing -and this is a good one.
A Dream of Passion: The Development of the Method Another one of the classics - this one from Lee Strasberg
Directing Actors: Creating Memorable Performances for Film & Television - Judith Weston is one of the well known and most respected teachers in Los Angeles. Her Directing Actors workshop is famous. And this book is a wonderful explanation of directing actors.
The Hero with a Thousand Faces (Mythos Books) A classic that every actor needs on their bookshelf. Learn the archetypes.
Michael Caine - Acting in Film (The Applause Acting Series) A wonderfully fun read - and some of the most sound advice in the business on acting.